The Joys & Risks of a Barbecue in Fall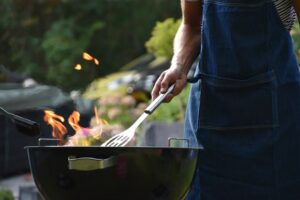 Doing barbecues for events and family dinners is a tradition around the world. This fall, you're probably planning to invite your friends and family over for a barbecue dinner. But before you do, read this article for the risks that come with the joy of barbecuing.
In some cases, accidents can happen during a barbecue because the flame is open and not controlled; fires and damage can occur. For emergency cases, reach out to 911 Restoration for help and clean-up services.
Risks of Barbecue
No matter how fun and enjoyable barbecue parties can be, there are always risks to it. Every year, the research found that barbecue parties trigger thousands of fires and blazes, killing dozens and causing damage to homes and backyards.
Fire Damage Because Of Barbecue
Cylinders of compressed gas used for grilling are even more dangerous than gasoline because gas containers can explode. Before you start grilling, you need to learn how to switch off fuel supplies, smother blazes and call the fire department. Learn about the risks and hazards of grilling before you hold any event.
Fire damage is not controlled and treated immediately can cause extensive damage to houses and backyards. If you happen to face anything, even a small fire, use ways to smother blazes and call the firefighters immediately.
Here are a few precautions you can follow to avoid fire damage;
Have barbecue parties in open spaces and big backyards. Barbecuing in confined spaces, under low roods, and indoors can trap fumes and smoke. It could quickly start a fire if the food and BBQ bursts into flames.
Make sure to use the correct type of gas and fuel in your barbecue. Read the data and registration plate attached to the barbecue that clearly states the kind of fuel for your BBQ model.
Breezy winds are expected in falls; it is dangerous to use gas barbecues in windy weather and risk spreading fires. Allowing gas to leak and build up can cause an explosive ignition when the burner is re-ignited.
Make sure there is an empty area around the barbecue grill to reduce the risk of fires
To ensure safety, place the barbecue grill on a flat, solid surface where there is no risk of it toppling over. If it topples over, it could lead to fire and severe damage.
Keep barbecue away from trees, fences, or anything that could easily catch fire.
Once the barbecue is burning, do not add flammable solvents to it
Keep a fire extinguisher close to you when barbecuing. In case of fire, you don't want to go looking everywhere to get one. Delay could lead to fire spreading all over your house.
Don't let young children close to the fire, and never leave the grill unattended. Children can be prone to accidents easily. You don't want your child getting hurt, do you?
Keep squirt bottles of cold water in hand in case of flare-ups and control minor flames when the food catches alight.
When safely disposing of ashes, ensure there are no glowing embers, and the ashes are completely cool.
Keep your alcohol consumption minimum at the party where there is a barbecue. Accidents can happen, and to prevent those, you can assign someone to take charge of the barbecue.
If you're in charge of the barbecue, wear appropriate clothes without dangly bits that can catch fire easily.
Smoke Damage Because Of Barbecue
Smoke is the product of fire. When barbecuing, smoke can get in your hair, eyes, clothes, and lungs and is a health hazard. Ensure your barbecue grill is working fine; those grills that are not functioning correctly can contain carbon monoxide, carcinogens, and other dangerous substances. Avoid inhaling this smoke as much as possible because cancer-causing substances can be released when grease burns.
Here are a few ways to protect yourself and your guests from smoke damage during the barbecue party;
Barbecue in an open space such as your backyard so the smoke can go into the air and not stay in enclosed spaces.
Keep the area ventilated, so no one inhales the smoke, especially those with sensitive lungs or respiratory diseases such as asthma
Ensure the grill is functioning correctly; if it's not working correctly, it can release harmful smoke and substances such as carbon monoxide that could be fatal if it's an enclosed space.
Benefits of Barbecue
Barbecue dinners are risky, but they can be fun to spend time together with family and friends with the proper precautions. Call up your loved ones this weekend and barbecue something special for them. It is excellent for families and a great way for couples to connect and get to know each other. Weekend barbecues are best because you get to relax and have some fun after a stressful week.
The act of grilling also gets you outdoors. With barbecues, people like to play outdoor games such as Frisbee or football. Cooking and eating outdoors encourages more activity and is a health bonus, along with a delicious dinner this fall.
If an Accident Occurs
If you're looking for restoration companies in Northern Kentucky or cleaning up after an accident, reputable companies like 911 Restoration have years of experience cleaning up fire and smoke damage. 911 Restoration provides mold damage restoration 24/7/365, with 45 minutes or less guaranteed arrival time.